Story by: Emma KempThe Guardian

02:53
For those who did not watch the 2018 US Open final, this pair have endured controversy while on the court together. In that decider at Flushing Meadows, where Williams, having received three pivotal code violations, called the chair umpire a "thief" and imploded in the second set while Osaka held her nerve to win. Williams then had to stop fans booing throughout Osaka's trophy ceremony.
Of course, that was basically the first thing Williams was asked after beating Simona Halep in the quarterfinals Tuesday, and only had praise for Osaka.
"I've been watching her and I'm sure she's been watching me, and I feel like this is such a good opportunity for me to keep doing my best," she said.
The pair have faced each other in the interim, with Williams beating Osaka emphatically in Toronto in 2019.
In other words, this could be anyone's.

02:43
It is picture perfect at Melbourne Park today. The temperature is around 30C, kept in check by a gentle breeze rustling the leaves in the stately gum trees beside court 5. In Garden Square attendees are lounging beside a puttering fountain. There is a relaxed holiday mood around the precinct following the five-day lockdown.
For the first time this event there are attendees milling freely around the grounds. The three walled zones have been removed with only two venues now in use for the business end of the tournament. Instead, crowds are capped each session at 7,477. Most of those for this daylight portion are about to enter Rod Laver Arena for the women's semi-final between Naomi Osaka and Serena Williams.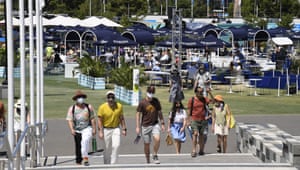 Updated


02:42
Preamble
The sun is shining. The mercury's hovering around the 30C mark. There are no new locally-acquired Covid cases in Victoria once again. And crowds have been allowed back into Melbourne Park for the first time in five days of empty stands. You could say that things are pretty sweet at the Australian Open on day 11 of the year's first grand slam. How could things possibly get any better? What's that, you say? A mouthwatering women's semi-final featuring two of the best and most entertaining players on the planet? Oh lordy, yes please.
Serena Williams and Naomi Osaka are first up on Rod Laver Arena today, where they will scrap it out for a place in Saturday's final. Williams, of course, is chasing a record-equalling 24th grand slam title and has given every indication so far in Melbourne that this could well be the tournament where she finally draws level with Margaret Court.
But there's a sizeable obstacle in her way in the form of Osaka, who has equally been in top form and looks capable of adding a fourth grand slam title to her…
Story continues…
Source References:The Guardian
The post 2021-02-18 04:05:32 | Australian Open 2021 day 11, semi-finals: Naomi Osaka v Serena Williams – live! | Sport
appeared first on http://justlatestnews.com
The post 2021-02-18 04:05:32 | Australian Open 2021 day 11, semi-finals: Naomi Osaka v Serena Williams – live! | Sport
appeared first on http://com-i1.com