Story by: Helen SullivanThe Guardian

00:08
EU wants 70% of adults vaccinated by end of summer
AstraZeneca will increase its coronavirus vaccine deliveries to the EU by 30%, European Commission chief Ursula von der Leyen said Sunday as the bloc sought to claw back time lost rolling out the jabs, AFP reports.
The British-Swedish company had announced last week that it could deliver only a quarter of the doses originally promised to the bloc for the first quarter of the year because of problems at one of its European factories.
But AstraZeneca, whose vaccine was authorised for use in the EU on Friday, has now agreed to send 9 million additional doses and "will start deliveries one week earlier than scheduled", Von der Leyen said in a tweet.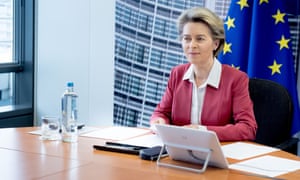 An EU source said the first deliveries would start in the second week of February.
"They are bringing forward the delivery now by another week … and they will increase the vaccine doses for February and March by about 30 percent, that is 9 million doses," von der Leyen said.
But she also acknowledged that February and March would remain "a difficult phase" for vaccine supply.
In the second quarter, the Johnson & Johnson vaccine will be on the market "and the manufacturers will have resolved their initial difficulties, so we can expect more vaccine", she said.
The aim was still to vaccinate 70% of adults in the EU by the end of summer, she added.
Updated


00:03
Israel extends lockdown as Covid variants offset vaccination drive
Israel extended a national lockdown on Sunday as Covid variants offset its vaccination drive and officials predicted a delay in a turnaround from the ongoing crisis.
Prime minister Benjamin Netanyahu's cabinet voted to extend the five-week-old national lockdown until Friday, pending parliamentary approval, Israeli media reported.Highlighting the country's challenges in enforcing restrictions, thousands of ultra-Orthodox Jews attended the Jerusalem funerals of two prominent rabbis on Sunday, drawing criticism from Netanyahu's coalition partners, Reuters reports.
The prime minister has promoted a speedy vaccination of around 24% of 9 million citizens and the lockdown as dual pathways to a possible reopening of the economy in February.
But a projected mid-January turnaround in curbing the pandemic did not transpire, as serious cases have surged among Israelis who have not yet been vaccinated.

23:59
Summary
Hello and welcome to today's live coverage of the coronavirus pandemic.
My name is Helen Sullivan and I'll be bringing you the latest news from around the world for the next few hours.
Ursula von der Leyen, the head of the European Commission, has said that the EU wants 70% of all adults in the blog to be vaccinated by the end of summer, Reuters reports.
Meanwhile Israel extended a national lockdown on Sunday as Covid variants offset its vaccination drive and officials predicted a delay in a turnaround from the ongoing crisis.
Here are the other key recent developments:
Primary schools in the Netherlands will reopen from 8 February, the Dutch government announced on Sunday, in the first easing of lockdown restrictions in months.
The number of Covid patients in French hospitals hit a near nine-week high on Sunday, with 27,613 Covid sufferers being treated in hospitals, up 331 on Saturday and reaching a level last seen on 1 December.
The UK has carried out the highest number of Covid vaccinations in one day, with figures showing 598,389 received their first dose on Saturday. The Government said a further 587 people had died within 28 days of testing positive for Covid-19 as of Sunday, bringing the UK total to 106,158.
On Sunday, police in Brussels said they have detained scores of people in an attempt to prevent two banned demonstrations against measures to curb the spread of Covid-19. A police spokesperson said more than 200 had been arrested by around midday.
The UK's priority is vaccinating its own population before it can think about supplying doses to help the EU or developing countries, the international trade secretary has said. Earlier, the World Health Organization called on the UK to halt its vaccination programme after vulnerable people and healthcare workers have been inoculated to ensure a "fair rollout".
Both France and Germany have threatened legal action against the Anglo-Swedish pharmaceutical company AstraZeneca in the row over a shortage of coronavirus vaccine in the EU. Brussels raising concerns that doses may have been diverted from plants in Belgium and Germany to the UK.
A World Health Organization team looking into the origins of the coronavirus pandemic today visited a market in the Chineses city of Wuhan where the virus was initially located. The team arrived at Huanan market amid heavy security, with additional barricades set up outside a high blue fence surrounding the market, and left in a convoy after about one hour. The experts did not take questions from journalists.

Germany said today that it will support Portugal with medical staff and equipment after an appeal for help from the Iberian country, which said on Saturday that only seven of 850 ICU beds set up for Covid-19 cases on its mainland were vacant. Austria said it would assist by taking in some intensive-care patients from Portugal.
Story continues…
Source References:The Guardian
The post 2021-02-01 00:03:27 | Coronavirus live news: EU wants 70% of adults vaccinated by end of summer; Israel extends Covid lockdown | World news
appeared first on http://justlatestnews.com
The post 2021-02-01 00:03:27 | Coronavirus live news: EU wants 70% of adults vaccinated by end of summer; Israel extends Covid lockdown | World news
appeared first on {authorlink}